Microsoft in an effort not to outdone by Google recently released an amazing suite of free tools that are Web2.0 enabled.
I'm writing this post in a program called Windows Live Writer. Download for free from http://download.live.com/
Here is a preview of the interface. It follows a similar layout to MS Word but is simplified and optimized for blogging.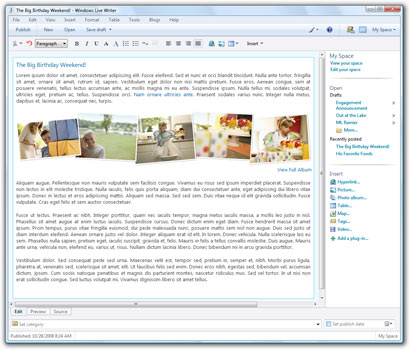 Here are some of the great features to check out:
it's free – maybe I mentioned that :) but one of the barriers of having something all students can use a common product is overcome by having it for free on any district owned or personally owned computer.
It allows any picture to be copies and pasted from the internet. It then uploads them automatically to the server in a photos folder. Functional simplicity at its best.
Works with multiple blog sites. I can use Windows Live Writer to post to my sharepoint site, my live account and more.
Great options to control layout in tables, font colours and more. Personalize at will!
Can insert with one click links to sites, pictures, photo albums, maps, video and more.
I'd be interested to hear what others think of this program.